Share with us your opinion ... click the link down.
POLL: What do you think about the project?
Tarja MovieStorm Project
The beginning...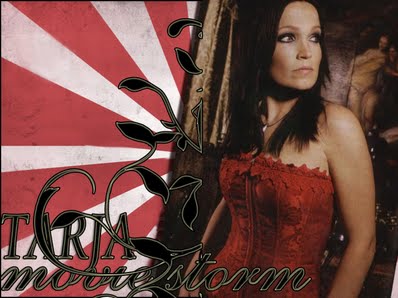 I want to say hello to all fans of Tarja and also welcome you all here in this new fan project web page with title "Tarja Movie Storm".
And of course all of you want to know what is all about, lets explain here some things about this idea:
My name is Vasilis and I am the creator of this idea about Tarja. Of course this web page created with precious help of my good friend Natalia from Spain (also you can find her in this page-under nick name "Natalia L.").
Before 3 months, I had the idea to create some movie script for small movie about Miss Tarja Turunen.
The basic inspiration come to me from her song "Die Alive" ( My Winter Storm album).
I start created and finally I finished. Of course is nothing yet officially, I start it like a fan idea project, but in the next days I say to my self why not try to make this idea come true and be a real movie!
Of course not a Hollywood production but something simple but nice that will be a fan project and also comes for my love about tarja and her inspiration that she always give me all those years.
Small Synopsis of the Story
"TARJA MOVIE STORM-BRIEF SYNOPSIS OF THE STORY"
STORY WRITER AND CREATOR OF IDEA:VASILIS SAROGLOU
The old and wise, always use to say "be careful of what you wish...", and they are right to warn us
Tarja Turunen was about to find out how right they are
As each and everyone of us, goes through the trials and tribulations of life, in order to achieve their ambitions and dreams,
so did Tarja Turunen, the famous singer, had to start from somewhere!
In this story we follow Tarja, 19 years old, when she was still in high school and was about to take the test in order to be
accepted in the University of Music, which was the first step to success
But what happens when you want something very much, but the universe does not conspire to aid you?
To go on forward you must first "die" and then be "reborn"
When she got her test results, she found out that she did not pass, and as a result, she was about to give up music, and
therefore not become the singer in Nightwish, and later her solo career
She made a powerful wish from the depths of her heart, but it was a negative wish, for her and her feature
The next day, when she woke up, nothing was the same! She woke up far away from home and her family and friends, in a cold,
dark, unfriendly place, in a house all lone. She had to realize how she found herself there, and how to find her way home
Was she dead? Was it a horrible nightmare?
Inside the old, abandoned house, she had to find the exit!
But the important question is: Was she really all alone inside that house?